Young Llama Thoughts
Adventurous

Christian Friendly

Easy Reading

Humerous

Youth Appropriate
Overall
4.3 Llamas










Review
Melanie Dickerson is an amazing author! She writes fantastic books for girls 14 and up!!!!!!!! And, she has an entire Fairy Tales series!!!!!!!!!
This book is Cinderella!!!!! It is a retelling of Cinderella in a medieval setting begging to be read!!!! Very interesting, action packed and so much fun to read!!!!! There is some violence though. Sword fighting, lance fighting, kidnapping, and force marriage. Nothing is detailed or inappropriate, but the violence is described a bit.
Over all, these books are great for older girls! Very fun and interesting, and Christian-friendly as well!!!! -The Young Llama Reader.
Pros
A GREAT book for older girls!
Adventure, romance, action and fairy tales!
Christian-friendly!!!!!
Cons
Not a kids book.
Some violence.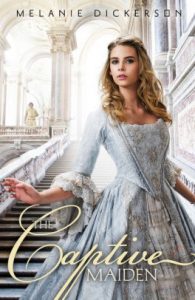 Gisela's childhood was filled with laughter and visits from nobles such as the duke and his young son. But since her father's death, each day has been filled with nothing but servitude to her stepmother. So when Gisela learns the duke's son, Valten—the boy she has daydreamed about for years—is throwing a ball in hopes of finding a wife, she vows to find a way to attend, even if it's only for a taste of a life she'll never have. To her surprise, she catches Valten's eye. Though he is rough around the edges, Gisela finds Valten has completely captured her heart. But other forces are bent on keeping the two from falling further in love, putting Gisela in more danger than she ever imagined.
Was this post helpful?
Let us know if you liked the post. That's the only way we can improve.