Young Llama Thoughts
Adventurous

Christian Friendly

Easy Reading

Humerous

Youth Appropriate
Overall
4 Llamas










Review
So, I love bookstores…. A lot. And when I see a book that is themed around a store, I am probably gonna buy it. It's who I am people!!!! So, I saw this book and kind-of fell in love… "This is Me".
This book is about 3 different women all coming together after their friend dies and leaves her niece her bookshop. From 3 different backgrounds, with 3 different problems, will they be able to pull themselves together enough to save their friends beloved bookshop?!
This book was beautiful. It was very clean with only mention of adult stuff like, 'ex. (It was only mentioned between married couples.) And lots of wine… I don't like alcohol, so to me, that was a con. Other than that, pretty clean!
Over all, what a beautiful book for young women to read! I love this book and totally will be re-reading it soon! Have an amazing day! -The Young Llama Reader.
Pros
A GREAT book for teen girls.
Very interesting!
BOOKSHOP!!!!!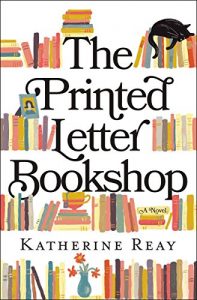 Books. Love. Friendship. Second chances. All can be found at the Printed Letter Bookshop in the small, charming town of Winsome.
One of Madeline Cullen's happiest childhood memories is of working with her Aunt Maddie in the quaint and cozy Printed Letter Bookshop. But by the time Madeline inherits the shop nearly twenty years later, family troubles and her own bitter losses have hardened Madeline's heart toward her once-treasured aunt—and the now struggling bookshop left in her care.
While Madeline intends to sell the shop as quickly as possible, the Printed Letter's two employees have other ideas. Reeling from a recent divorce, Janet finds sanctuary within the books and within the decadent window displays she creates. Claire, though quieter than the acerbic Janet, feels equally drawn to the daily rhythms of the shop and its loyal clientele, finding a renewed purpose within its walls.
When Madeline's professional life falls apart, and a handsome gardener upends all her preconceived notions, she questions her plans and her heart. Has she been too quick to dismiss her aunt's beloved shop? And even if she has, the women's best combined efforts may be too little, too late.
Was this post helpful?
Let us know if you liked the post. That's the only way we can improve.