Young Llama Thoughts
Adventurous

Christian Friendly

Easy Reading

Humerous

Youth Appropriate
Overall
4 Llamas










Review
I received this free copy from Baker Book House for my honest review. And I LOVED IT!!! This is a new favorite book of mine! It is action packed, filled with humor and is soooooooo good!
The book is about a women running from her family of assassins and she accidentally saves this man who is going to pull her into a huge mystery! When attack after attack come, and no one believes them, they will have to work together to do their best to save the nation. And maybe fall in  love along the way…
I very much enjoyed this book, but it is NOT a kids or young teens book. This is a 16 and up book. There is violence, people get shot, stabbed, threatened. There is mention of abortion, suicide and a weaponized Ebola. And there is some mention of adult topics, nothing happens, but people share rooms. And the word 'slept' is 'together' mentioned a few times. (Sooooo… 16 and up!)
Over all, this is an absolutely beautifully written book! And I can not wait for Melissa Koslin to write another!!!!!!!! -The Young Llama Reader.
Pros
A AMAZING book for girls 16 and up!!!
Adventure, action, awesomeness!!!!
Cons
Mention of adult topics…
NOT a kids book.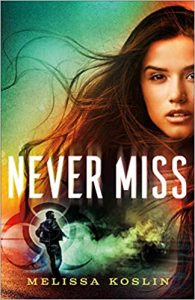 Former CIA sniper Kadance Tolle possesses a special set of skills and a rare pedigree. She comes from a family of assassins, and by saving Lyndon Vaile's life she risks being found by them. Despite the danger, Kadance feels compelled to help Lyndon discover who is after him–and his research that seems to prove that the Ebola virus was manmade and is about to be weaponized.
With shadowy figures pursuing them and a Mastermind watching their every move, Kadance and Lyndon must scramble to stop an impending bioattack at the State of the Union address. But their warnings fall on deaf ears, and it becomes increasingly clear that there's no one they can trust–except perhaps each other.
Strap in for a breakneck story that will have you up all night, hurtling toward the last page as the clock ticks and time runs out.
Was this post helpful?
Let us know if you liked the post. That's the only way we can improve.