Young Llama Thoughts
Adventurous

Christian Friendly

Easy Reading

Humerous

Youth Appropriate
Overall
2.4 Llamas










Review
"Sigh…" One day I would like to pick up a random book off a shelf and just read it without any weird stuff showing up! Sadly, until I open my own bookstore, that dream does not exist…. I REALLY loved the idea of this book! The cover was beautiful, the story line sounded perfect and I thought this would be a great book for girls! I was wrong.
This book is about a girl who adores everything musical related! From Hamilton to Wicked, she knows them all, and she dreams of preforming one day in a musical! However she is in a wheelchair… But when auditions for the play Wicked come up she "jumps" at the chance! Maybe this will be her dream come true!!!!!
I really wanted this book to work!!!!! I had read one other book by the author and I thought this one would be clean too. But it was not, thankfully I didn't buy it! The back of the book shows some art too, and my sister saw a boy wearing a sparkly tan top but I decided to read it anyways!… And he is gay…. He literally was the only 'con' in the book. Everything else was clean, but him.
Now, I have to say this over and over again. I do not hate LGBT people! This is America, you have the right to be LGBT, but I don't support it. And I really don't want it in a kids book with no warning… I checked 3 different review sites on this book and no one said anything about him…
Over all, I will not be reading any more books by this author and I do not suggest this book. I hope you all have a great day and find a really good book soon! -The Young Llama Reader.
Pros
A ok book for girls.
Lots of musical references.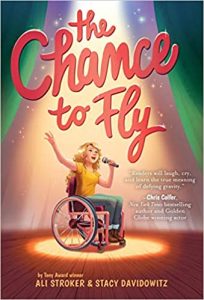 A heartfelt middle-grade novel about a theater-loving girl who uses a wheelchair for mobility and her quest to defy expectations—and gravity—from Tony award–winning actress Ali Stroker and Stacy Davidowitz
Thirteen-year-old Nat Beacon loves a lot of things: her dog Warbucks, her best friend Chloe, and competing on her wheelchair racing team, the Zoomers, to name a few. But there's one thing she's absolutely OBSESSED with: MUSICALS! From Hamilton to Les Mis, there's not a cast album she hasn't memorized and belted along to. She's never actually been in a musical though, or even seen an actor who uses a wheelchair for mobility on stage. Would someone like Nat ever get cast?
But when Nat's family moves from California to New Jersey, Nat stumbles upon auditions for a kids' production of Wicked, one of her favorite musicals ever! And she gets into the ensemble! The other cast members are super cool and inclusive (well, most of them)— especially Malik, the male lead and cutest boy Nat's ever seen. But when things go awry a week before opening night, will Nat be able to cast her fears and insecurities aside and "Defy Gravity" in every sense of the song title?
Was this post helpful?
Let us know if you liked the post. That's the only way we can improve.