Young Llama Thoughts
Adventurous

Christian Friendly

Easy Reading

Humerous

Youth Appropriate
Overall
4.7 Llamas










Review
Ok, I adore this book!!!!! I lately have had an impossible time trying to find new books; all of them have something wrong with them that I will not read about. But then this book caught my eye and I fell in love!!!!!
This book is about a kid who's dad has spent his whole life looking for Atlantis. Well by accident he gets caught up and stuck in his dad's submarine and now he is on the road to finding Atlantis too! Or he is at least stuck in the sub till they find something. Down deep in the sea is Atlantis and a girl who has dreamed her whole life of seeing the People of the Sun. So when her chance comes she jumps on it with to second thinking! But it looks like Atlantis is hiding more than it may appear…
I REALLY love this book! It's clean, kid-friendly, funny, adventurous!!!!! Basically awesome!!!! I don't really have any 'cons' except some bathroom humor and the boy burps a lot? Other than that, this book is a must read!!!!!!!
Over all, this book has become a new favorite of mine and I cannot wait for book 2!!!!!!! Have an fantastic day!!!!!!!!!!!!!!!! -The Young Llama Reader.
Pros
A FANTASTIC read!!!
Very interesting and fun!
Totally suggest!!!!!!!
Cons
Some bathroom humor and burping talk.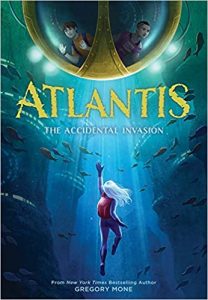 Kaya, raised in the undersea, high-tech world of Atlantis, has always been fascinated by the legends about life above the water. Despite the government's insistence that they're only stories, she can't help but dream about the Sun People—and when a group of officials known as Erasers move to bury those legends for good, Kaya sets out to the surface to uncover the truth once and for all.
In the world above, where climate change has led to giant tsunamis that threaten Earth's coasts, all Lewis wants is to spend more time with his scientist father. When he stows away on his dad's top-secret research trip, he finds himself thrown headfirst into an adventure much bigger than he bargained for.
Fast-paced and action-packed, The Accidental Invasion brings readers into a world unlike anything they've seen before. Bonus content includes real scientific information about genetic modification, earthquakes, nuclear power, and plate tectonics.
Was this post helpful?
Let us know if you liked the post. That's the only way we can improve.