Young Llama Thoughts
Adventurous

Christian Friendly

Easy Reading

Humerous

Youth Appropriate
Overall
4.6 Llamas










Review
So, I read a lot of kids books. And I have just decided that kids book are better than young adult books! And when I saw the cover of this book! I picked it up, bought it and walked out of the store a happy customer.
This book is about a kid, who's older brother accidentally gets super powers! The thing is, Luke is the one with all the knowledge about supers! And now his brother gets to save the world!!! Now he has to keep his brothers secret, avoid a crazy reporter, help Zack save the world, get help to save Zack, and find his brothers Nemesis before it's to late!!!!!!!!!!
This book was soooooo good! It is perfect for boys! There is action, superheros, and lots of mention of radio-active animals. The only "con" for this book would be that the older brother accidentally gets tattoos with his powers. (There "magical" star tattoos that 'help' him?) That was the only thing I could think of!
Over all, this is such a great book for boys, and I totally suggest it to teens as well!!!!! Have a book-filled day!!!!! -The Young Llama Reader.
Pros
AWESOMENESS!!!!!
An amazing book for boys!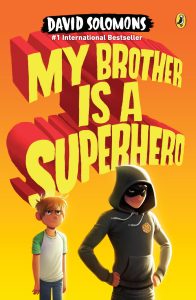 Luke Parker was just your average comic book fan until his boring, teacher's pet, helps-old-ladies-across-the-street brother Zack got turned into a superhero. Luke can't believe the unfairness of it all—he's the one with the encyclopedic knowledge of everything from Ant-Man to Wolverine! At least he can help Zack—aka Star Guy—with all the important parts of becoming a superhero, like using his newfound powers and deciding whether or not to wear a cape. But when Star Guy gets into super-size trouble, it's up to Luke—and his intrepid neighbor, Lara—to rescue his big brother and, with a little luck, help him save the world.
Was this post helpful?
Let us know if you liked the post. That's the only way we can improve.