Young Llama Thoughts
Adventurous

Christian Friendly

Easy Reading

Humerous

Youth Appropriate
Overall
4.2 Llamas










Review
So, I adored the first 2 Enola Holmes books, I went and got the rest of the series. (And loved them!!!!!! I NEED this series on my favorite book shelf!) I was sooooo thrilled this series was clean! With only violence that is 14 and up (in my opinion, yours might be different) and mention of kidnappings, corsets, stabbings, murders, and strangling…. So no, I would not say this book is kid-friendly; however I do think it is clean for teenagers.
This book is about Enola making her way in London, when she hears about a terrible crime. Dr. Watson, her brother Sherlock Holmes good friend, has disappeared!!!! Immediately on the case, Enola starts finding clues; and with them some strange questions… With bizarre bouquets, with flowers all symbolizing death, missing noses, disgusting rats, and she is still hiding from her brothers…. Enola Holmes might not make it out alive!
I really did enjoy this book, and the plot line and action had me roped in from the start!!! There was some violence though. The normal, Lovely London issues… Mention of people dying in the streets, homeless children and such. As well as, rats eating kids…. "BLEH!!!!!" (It was a little creepy to read about… NOTHING was described only mentioned in passing, but still… BLEH!) Mention of murders, insane asylum, and the usual stuff 1889 London problems.
Over all, I TOTALLY suggest this book and series!!!! It is one of the BEST series I have read in a llllooooonnnngggg time! I hope you all have a great day! -The Young Llama Reader.
Pros
A VERY clean book for girls 14 and up!
AWESOME SERIES!!!!!
Very enjoyable read!!!!!!!!!!!!!!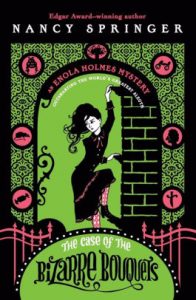 Everyone knows Dr. Watson is Sherlock Holmes's right-hand man, so when he goes missing, it's a shock. Even Sherlock hasn't the slightest clue as to where he could be. Enola is intrigued but wary; she's still hiding from her older brothers, and getting involved could prove to be disastrous. But Enola can't help but investigate, especially when she learns that a bizarre bouquet–with flowers all symbolizing death–has been delivered to the Watson residence. Enola knows she must act quickly, but can she find Dr. Watson in time?
Was this post helpful?
Let us know if you liked the post. That's the only way we can improve.