Young Llama Thoughts
Adventurous

Christian Friendly

Easy Reading

Humerous

Youth Appropriate
Overall
4 Llamas










Review
Ok, so I LOVED the Enola Holmes movie, and then my mom found out there where BOOKS!!!!! And lets just say that I had a very good Christmas!!! And I got to read the 1st book, and it was awesome!!!!!!!!!!!!!!!
The book is about Enola Holmes, the sister of Sherlock Holmes. She has grown up a bit differently than the normal young girl in 1888 London. So when her mother, a bit of a crazy woman, just vanishes one day, she decides to go find her herself! With mysteries, danger, action and murder, Enola Holmes is sure to find something in the dangerous city of London.
The book was REALLY good! But, there was a lot of mentions of the "Unmentionables" (ironically) and corsets, bosoms, and the REAL life in London 1888. Let's just say, it wasn't pretty…. If anything, London was a horrible city full of murder and filth. And there are a lot of mentions of prostitutes and women not being safe in London. Nothing is described or mentioned; but it is in there. (That is why this book is 14 and up, and probably only for girls) There is also mentions of men and woman disguising themselves as the other gender. (Not transgender.) And in this book, there is a woman who supposedly, can talk to the spirits of the dead. She really can't and nothing happens.
Over all, LOVE this series!!!! And CAN'T wait till I get to read the other books!!!!! I hope you all, have a great LAST DAY of 2020, and may God be with you into the New Year! Love ya!!!! -The Young Llama Reader.
Pros
ACTION! ADVENTURE!!! AWESOMENESS!!!!
A VERY good book series for girls 14 and up!
Cons
Mention of "Unmentionables" and corsets and such.
Violence, kidnappings, and murders.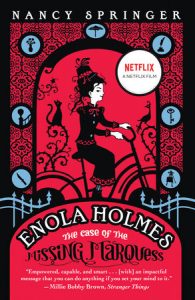 Meet Enola Holmes, teenaged girl turned detective and the younger sister to Sherlock Holmes.
When Enola Holmes, sister to the detective Sherlock Holmes, discovers her mother has disappeared, she quickly embarks on a journey to London in search of her. But nothing can prepare her for what awaits. Because when she arrives, she finds herself involved in the kidnapping of a young marquess, fleeing murderous villains, and trying to elude her shrewd older brothers—all while attempting to piece together clues to her mother's strange disappearance. Amid all the mayhem, will Enola be able to decode the necessary clues and find her mother?
Was this post helpful?
Let us know if you liked the post. That's the only way we can improve.