Young Llama Thoughts
Adventurous

Christian Friendly

Easy Reading

Humerous

Youth Appropriate
Overall
4.5 Llamas










Review
I adore this series! It is just sooooooo interesting to read, and with every new plot twist and cliffhanger I just get sucked deeper into this amazing series!!!!!!!!
This series is about these 3, very unlucky orphans who are trying book after book to escape the evil Count Olaf. He is trying, (thankfully unsuccessfully) to steal their family fortune. In this book the siblings have traveled to a carnival hoping to find more answers to all the secrets lurking around. What they didn't except was the lions, the crazy fortune teller, disguises, and more secrets…
I LOVE this series; it is clean, funny (in a very sarcastic way) and full of mysteries!!!! Now there is violence. There are "freaks" in the books who are made fun of, lions who… well eat people, and Count Olaf who will get rid of everyone to get his prize. None of the violence is described though. No blood mentioned, just that it happened and the kids are horrified.
Over all, I LOVE THIS SERIES!!!! I totally suggest this book and series and I can't wait to read the rest!!!!!!!!! Have a Very Merry Christmas! -The Young Llama Reader.
Pros
An AMAZING book series for kids and teens!!!
Very clean and fun to read!
Cons
Mention of people being "freaks" and lots of violence.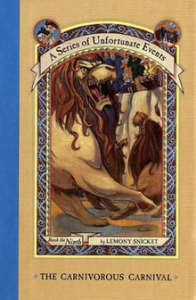 Everybody loves a carnival! Who can fail to delight in the colourful people, the unworldly spectacle, the fabulous freaks?
A carnival is a place for good family fun—as long as one has a family, that is. For the Baudelaire orphans, their time at the carnival turns out to be yet another episode in a now unbearable series of unfortunate events. In fact, in this appalling ninth installment in Lemony Snicket's serial, the siblings must confront a terrible lie, a caravan, and Chabo the wolf baby.
With millions of readers worldwide, and the Baudelaire's fate turning from unpleasant to unseemly, it is clear that Lemony Snicket has taken nearly all the fun out of children's books.
Was this post helpful?
Let us know if you liked the post. That's the only way we can improve.