Young Llama Thoughts
Adventurous

Christian Friendly

Easy Reading

Humerous

Youth Appropriate
Overall
4 Llamas










Review
This book was sent to me by Ms. King, (Hi Kimberly!!!!) and I LOVED it! It was funny, clean and very interesting to read!!!! (Plus, this poor girl in the book just has no luck. I felt bad for her, while I laughed at all her hilarious mess-ups!)
The book is about this girl in high school, who's family is very rich. She lives with her grandma, (who is a flirt) and is just trying to survive high school with her dignity intact. While trying to be noticed by her crush, she finds out that good luck may not be on her side. And bad luck may be a whole lot funnier!
I really enjoyed the book, and I laughed soooooo hard when this poor girls pants split! (Nothing described, just mentioned.) There is mention of horoscopes, rabbit feet and this girl believing in luck. But nothing creepy or anything. And mention of older ladies in bikinis. (Bleh!)
Over all, a very clean (and awesome) book for girls!!!!! I very much suggest it, and I hope you all have a great day!!!!!!! -The Young Llama Reader.
Pros
A very funny romance that keeps you reading till the end!!!!
Very clean and good for girls 12 and up!
Cons
Mention luck, rabbit feet and horoscopes.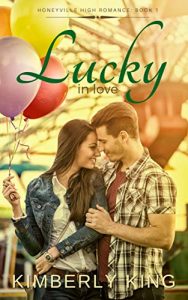 Kat Ellison is sure she's the only person on earth whose grandma still flirts with the pool boy. But she's got bigger problems now that Sam Buxton, Senior Class President, keeps coming around. From the moment she laid eyes on him, she's had nothing but bad luck, but there's no getting rid of him. Gram has decided they're a perfect match and is bound and determined to get the two together.From her baking mishaps at home to mortifying moments in the halls of Honeyville High, Kat's convinced Sam is a bad penny the way he keeps showing up. But she has a plan: win over recently single Hunter Hayes, convince Gram that he's a better match, and get rid of her bad luck—and Sam—once and for all.The trouble is her fate is written in the stars. How can she change it when everything keeps bringing her back to the one person she can't stand?
Was this post helpful?
Let us know if you liked the post. That's the only way we can improve.