Young Llama Thoughts
Adventurous

Christian Friendly

Easy Reading

Humerous

Youth Appropriate
Overall
4.7 Llamas










Review
The book is soooooo sweet!!!!!!! Friendship, helping others and just an amazing book for both kids and teens! I just can't enough of this beautiful book full of strength and hope and finding joy in the littlest things!!!!
The book is about a girl who's mom is trying to find a job with no luck; so she is living in an orange van, with no hope for a future. And a boy who wants to help everyone, no matter what everyone else says.
The book was AWESOME!!!!!! And I totally suggest it! There is a lot of people trying to get rid of the homeless people who are living in their cars. But this boy just goes out of his way to help this girl get through a difficult time.
Over all, LOVE!!!!!!! I actually don't know how to put it in words how much I adore this book!!!!!!!!!! A good book for kids, teens and anyone who loves a good adventure! -The Young Llama Reader.
Pros
A BEAUTIFUL story of friendship and love!!!!!
A new favorite on my shelf!!!!!!!!!!!!
Cons
Talk of homeless people..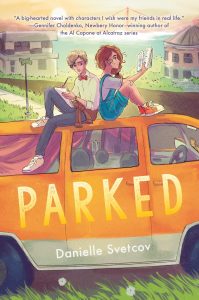 Jeanne Ann is smart, stubborn, living in an orange van, and determined to find a permanent address before the start of seventh grade. Cal is awkward sensitive, living in a humongous house across the street, and determined to save her. Jeanne Ann wants Cal's help just about as much as she wants to live in a van.
As the two form a tentative friendship that grows deeper over alternating chapters, they're buoyed by a cast of complex, oddball characters, who let them down, lift them up, and leave you cheering. Debut novelist Danielle Svetcov shines a light on a big problem without a ready answer, pulling it off with the perfect balance of humor, heartbreak, and hope.
Was this post helpful?
Let us know if you liked the post. That's the only way we can improve.