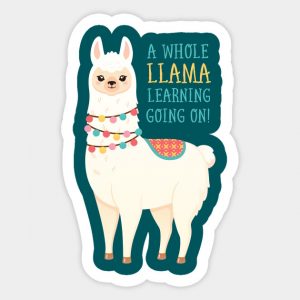 Hola my Llama Friends! Who is ready for a new school year!?!?!?… (No one?… I'm not really surprised.) I know this year is gonna be all over the place. Corona, our country deciding to tear it's self apart, you have to wear a very annoying piece of cloth on your face all the time. (Or you can't shop for books!!!! Yes, people are kicking you out of stores for not wearing a mask… 🙁 ) But I think we can still do this!!!!!!… Maybe…
So this year is my Senior year of high school, so if there aren't a lot of books posted this year…It's because I'm panicking about life! I am home-schooled, (which does NOT mean I have all the time in the world to do what ever I want!!!! My family's building a Church here!!!!!!!! We have no time!) so I do have a bit more time for reading…. But I'm also a little bit busy! However I ADORE being The Young Llama!!!! I love all the emails I've received from my Llama Friends, the authors I know and love to talk too! And making a little, tinny-tiny difference in this world with my website! So, I am not giving up now!!!!! (I just have to find more books… HELP! )
So, this year I want to try to do a little bit better with my website. More books, more fun, more LLAMAS!!!!! Let's do this people! I hope you all have a great day; and may school go back o normal and all the masks vanish in space! Love ya! -The Young Llama Reader.
Was this post helpful?
Let us know if you liked the post. That's the only way we can improve.