Young Llama Thoughts
Adventurous

Christian Friendly

Easy Reading

Humerous

Youth Appropriate
Overall
3.9 Llamas










Review
This book is very good!!!!! And I would say kid-friendly as well! (Though there is a lot of violence and some mention of naked people.) But the message of the book is soooooo beautiful!!!!!
The book is about David Livingstone, an amazing man who gave everything up to change Africa for God. And the book is just so interesting to read. Though there is a lot of violence, though nothing is too described there is mention of blood and death. And the people of Africa are sometimes naked or barely dressed, but NOTHING is described it's just mentioned.
Over all, it is a very good book for kids, teens and adults. (My Grampy even read it and loved it!) I hope you all have a good day!!!!! -The Young Llama Reader.
Pros
A beautiful story about a man who risked everything for God.
VERY Christian-friendly!
Cons
Some violence and most of the African's are naked…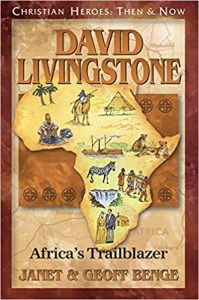 The lion's jaws gripped David Livingstone's arm. Razor-sharp teeth pierced his flesh as the lion savagely shook David in the air like a rag doll. A gunshot rang out. "God help us," David moaned, as the lion dropped him and turned to charge David's friend Mebalwe.
With the heart of an explorer and the passion of an evangelist, David Livingstone mapped vast, unexplored areas of Africa, sharing the gospel with whomever he encountered. His stamina, perserverance, and dogged determination created the legacy of a trailblazing explorer with an undying hunger to make Christ known wherever his steps led him.
David Livingstone's captivating adventures and tireless zeal continue to inspire countless men and women to bring the gospel message of God's love to those souls who have never heard.
Was this post helpful?
Let us know if you liked the post. That's the only way we can improve.