Young Llama Thoughts
Adventurous

Christian Friendly

Easy Reading

Humerous

Youth Appropriate
Overall
4.2 Llamas










Review
Mulan has always been a beautiful story about a girl who wants to fight for her country and the only way she can do it is as a man. But the way this book was written tells you her part of it. That she is not a man, but a brave woman that can fight with the help of others near her.
I have always loved the story of Mulan, a woman fighting for her country but still needs help to save China. But the way this book was written really made her stand out even more. The only things I will mention is the magic and half dressed men. There is a witch in the book, but she isn't really a witch. The Chinese mythology in the book makes her more like a shapeshifter. And there is the mention of chi, the magical life force that can be used in battles to make you stronger and faster. And then there's a lot of mention of half dressed men. (BLEH!) NOTHING is described, but if you are gonna watch the movie you will see bare chests probably. (And "Duh!" there's violence, no blood described in the book, surprisingly. But there might be some in the movie.)
Over all, I actually did enjoy this book. It is very clean and stayed within the culture too! I would suggest this book to those who love a good Disney read; and I hope you have a nice day!!! -The Young Llama Reader.
Pros
A REALLY good book!
I would say youth appropriate!
Cons
Some mention of violence and half dressed men.
Some magic involving chi and witches.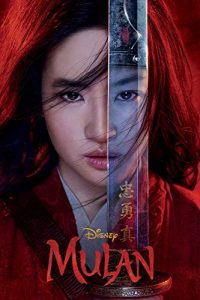 A thrilling paperback novelization that will take readers back inside the world of the upcoming Walt Disney Studios' live action Mulan film to relive the adventures with their favorite characters, old and new.
Was this post helpful?
Let us know if you liked the post. That's the only way we can improve.