Young Llama Thoughts
Adventurous

Christian Friendly

Easy Reading

Humerous

Youth Appropriate
Overall
3.3 Llamas










Review
Sigh…I like this book but there is one chapter that kind-of ruined it for me… One chapter! It was a gay couple…and they weren't even part of the story!!! I just WISH there was a LGBT label on the outside of the book that tells me whats on the INSIDE of the book! (But sadly that's not the case…)
Now, this book was REALLY good!!!! But again, that one chapter sneaks up on you… The book is about a little boy, his new teacher and his mom. And this little boy gets an assignment that sparks an idea into his heart. He decides, that if he does 3 really special deeds for 3 different people, and those 3 people do 3 things for 3 more people. And it keeps going around…it could change the world… (Awwwwww!!!!!)
There are only 2 things I think I should mention; there is some violence in the book. (Someone gets stabbed…) And the LGBT. And, I have to say, I do NOT dislike LGBT people. I just don't want it mentioned in the kids books I read. I wish with all my heart, that there was a LGBT label so I know which books had it in them. But I do not dislike anyone who is LGBT. Every LGBT person has the American right to be LGBT and to read LGBT. But I don't want to read it. Just like you don't have to read Christian or fantasy or Inspirational books, I don't have to read LGBT. All I want is an option to not have it sneak up on me while I'm reading.
Over all, the message of the book is sooooo beautiful. But I actually don't think I would suggest this book due to the stabbing and LGBT. I hope you all have a wonderful day, and may God bless AMERICA! -The Young Llama Reader.
Pros
A very beautiful story that will inspire anyone!
Cons
LGBT alert.
Some violence…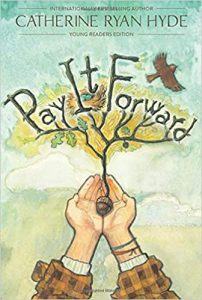 The internationally bestselling book that inspired the Pay It Forward movement is now available in a middle grade edition.
Pay It Forward is a moving, uplifting novel about Trevor McKinney, a twelve-year-old boy in a small California town who accepts his teacher's challenge to earn extra credit by coming up with a plan to change the world. Trevor's idea is simple: do a good deed for three people, and instead of asking them to return the favor, ask them to "pay it forward" to three others who need help. He envisions a vast movement of kindness and goodwill spreading across the world, and in this "quiet, steady masterpiece with an incandescent ending" (Kirkus Reviews), Trevor's actions change his community forever.
Was this post helpful?
Let us know if you liked the post. That's the only way we can improve.