Young Llama Thoughts
Adventurous

Christian Friendly

Easy Reading

Humerous

Youth Appropriate
Overall
4.6 Llamas










Review
Ok, I loved the 1st Jackson Greene book, but this one was even better!!!!!! The action, the plotting, and the drama!?!…I feel in love pretty quick. (I do love a good heist book or movie, so no surprise I love the Jackson Greene books!!!!!)
This book was super cool! In the book, the kids are trying to catch someone who is setting them up for a prank they didn't do. And the only way to catch them is to steal the semester exam from the school!!!! It was awesome!!!!!!!!! And super interesting to read. There was lots of action of preparing to break in the school! Which is perfect for a heist lover like me!!!! (A good thief book always gets me hooked!)
The only thing I should warn you about, (And it literally is the only thing I could think of as a 'con') was in the book, one of the boys is trying to get up the nerve to kiss a girl. So there is a lot of "Are you gonna kiss her?" and "When are you gonna kiss her?!?". That's it…
Over all, a super clean, very enjoyable read that I suggest to boys and girls! If you are looking for your next big heist book…I just found it!!!! Happy Reading! -The Young Llama Reader.
Pros
A VERY clean and funny book for boys!!!
Heist action, thieving and awesomeness!!!!
Cons
Lots of talk about getting up the nerve to kiss a girl.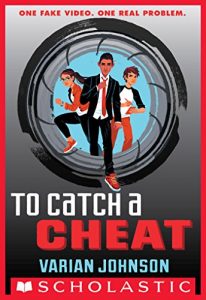 When a video frames Jackson Greene and his friends for a crime they didn't commit, Gang Greene battles the blackmailers in this sequel to the acclaimed The Great Greene Heist.
Jackson Greene is riding high. He is officially retired from conning, so Principal Kelsey is (mostly) off his back. His friends have great new projects of their own. And he's been hanging out a lot with Gaby de la Cruz, so he thinks maybe, just maybe, they'll soon have their first kiss.
Then Jackson receives a link to a faked security video that seems to show him and the rest of Gang Greene flooding the school gym. The jerks behind the video threaten to pass it to the principal — unless Jackson steals an advance copy of the school's toughest exam.
So Gang Greene reunites for their biggest job yet. To get the test adn clear their names, they'll have to outrun the school's security cameras, outwit a nosy member of the Honor Board, and outmaneuver the blackmailers while setting a trap for them in turn. And as they execute another exciting caper full of twists and turns, they'll prove that sometimes it takes a thief to catch a cheat.
Was this post helpful?
Let us know if you liked the post. That's the only way we can improve.