Young Llama Thoughts
Adventurous

Christian Friendly

Easy Reading

Humerous

Youth Appropriate
Overall
4.4 Llamas










Review
Ok, I always love a good heist book and this one is, books down, AWESOME!!!! Totally suggest this book to kids and teens like now!!!!!! And I would suggest this books to boys too. (Though there is mention of where a girl would put a hidden microphone. Not described, it was just asked. And a weird description of kissing. Other then that, completely clean!!!!)
The book is about this kid who has a reputation of being the kid who gets into trouble around school. (Heist like trouble) And it's about him and his friends helping this girl win the election against the bully of the school! But his "helping" might be different than most…
The book was awesome!!! And very enjoyable to read, except for 2 parts. First one is a girl saying she can hide a tiny microphone somewhere… And the guys are a little embarrassed once they figure out where… (All the teens know what I'm talking about…) There wasn't anything described, but you get the picture. And the other one was a description of kissing… And it was described as "sticking your tongue down her throat"… (BLEH!!!) Very weird way to describe that, but that was it. Nothing else described.
Over all, LOVE!!!! I very much suggest this book to you! Though you might want to ask your parents first, due to the 2 things. But it is very clean kids book and I great one for boys. Have a great day, more books coming soon!!!! -The Young Llama Reader.
Pros
VERY funny and enjoyable! to read!
A great book for kids and teens!!!!
Cons
One weird way to describe kissing was mentioned…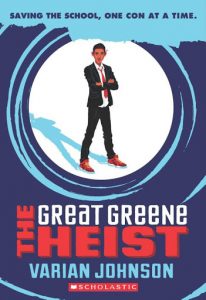 Jackson Greene swears he's given up scheming. Then school bully Keith Sinclair announces he's running for Student Council president, against Jackson's former friend Gaby de la Cruz. Gaby wants Jackson to stay out of it — but he knows Keith has "connections" to the principal, which could win him the presidency no matter the vote count.
So Jackson assembles a crack team: Hashemi Larijani, tech genius. Victor Cho, bankroll. Megan Feldman, science goddess. Charlie de la Cruz, reporter. Together they devise a plan that will take down Keith, win Gaby's respect, and make sure the election is done right. If they can pull it off, it will be remembered as the school's greatest con ever — one worthy of the name THE GREAT GREENE HEIST.
Was this post helpful?
Let us know if you liked the post. That's the only way we can improve.