Young Llama Thoughts
Adventurous

Christian Friendly

Easy Reading

Humerous

Youth Appropriate
Overall
4.5 Llamas










Review
Ok, this is sooooo one of my new favorite books!!!! It is sweet, heart-warming, (a little heart-breaking too) inspiring and just makes me want to hug every lonely whale in the ocean!!!! (And this is based on a real whale named '52 Blue'!!!! How cute is that!?!?!?!)
The book is about a deaf girl who loves to fix radios and feel the vibrations that the songs make. And then one day she finds out about this whale named 55 Blue, and how he can only sing a song that other whales can't sing. Which has made him the loneliest whale in the world, due to the fact that the other whales reject him… So she wants to find a way to give him a song that he can sing too!!!!! Which results in a crazy awesome adventure in this beautiful book!!!!
I totally suggest this book now!!!! I already love books about kids who aren't included that find a way to shine! So this book already warmed my heart, but then I found out she was deaf and I fell in love!!! I LOVE sign language. (I'm not good at it, and I only know like 20 words) So reading about her struggles going to school and fitting in… The book just spoke to me!!!!!
And the book is VERY clean, the only thing I could think off that could be a "con" was it's a little sad at some parts… But doesn't that just make the book better?!?!?! I think it does!!!
Over all, I totally adore this book and suggest it to kids and teens alike!!!! If you are interested in whales or an amazing story that makes you want to get up and save something…This is the book for you! Have an Llamazing day!!!! -The Young Llama Reader.
Pros
This is such a beautiful book!!!!!
Very kid and Christian-friendly.
A perfect book for those animal lovers out there!
Cons
Some parts are a little sad…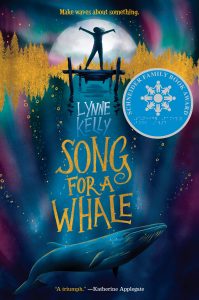 From fixing the class computer to repairing old radios, twelve-year-old Iris is a tech genius. But she's the only deaf person in her school, so people often treat her like she's not very smart. If you've ever felt like no one was listening to you, then you know how hard that can be.
When she learns about Blue 55, a real whale who is unable to speak to other whales, Iris understands how he must feel. Then she has an idea: she should invent a way to "sing" to him! But he's three thousand miles away. How will she play her song for him?
Full of heart and poignancy, this affecting story by sign language interpreter Lynne Kelly shows how a little determination can make big waves.
Was this post helpful?
Let us know if you liked the post. That's the only way we can improve.