Adventurous

Christian Friendly

Easy Reading

Humerous

Youth Appropriate
Overall
0.7 Llamas










Review
Ok, I would just like to say, I am deeply sorry to any LGBT people out there but I do not want LGBT showing up in kids books. I do not dislike anyone who is LGBT, but when it shows up in kids books it makes me way upset.
This book is about a girl who works at a hotel and wants to be a detective. And she has to find some diamond swimming cap. (Apparently this book was a comic series too, and there was LGBT in it as well.)
She's Lesbian… What really drives me nuts, is the fact that there is no mention outside the book! I wish they would put a warning on the cover saying this book has LGBT in it! Cause this book was a gift to me and now I will not finish reading it and will probably throw it away because I do not believe in this. I am not trying to offend anyone, this is my Christian opinion. You do not have to read this if you don't want to, but I personally never want to see this book again.
Over all, I never finished the book. I am very disappointed in it and I wish people would warn kids and adults about whats IN the book before they buy it. But I guess that's why I'm here. My website is designed just for this! So… Don't read or buy this book; and I want my $15 back… 🙁 -The Young Llama Reader.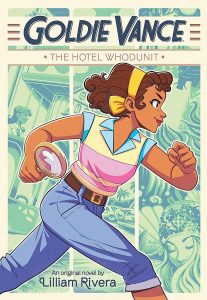 Move over, Nancy Drew–there's a new sleuth in town! Inspired by the beloved comic series, Goldie Vance is ready to sleuth her way through never-before-seen mysteries in this original novel series by Lilliam Rivera featuring 16 full-color comic pages!
Marigold "Goldie" Vance lives and works at the Crossed Palms Resort Hotel in Florida with a whole slew of characters: her dad, Art, the manager of the joint; Cheryl Lebeaux, the concierge and Goldie's best friend; and Walter Tooey, the hired hotel detective. Her mom, Sylvie, works nearby at the Mermaid Club.
While life at the Crossed Palms is always busy, the resort is currently overrun with Hollywood-types filming the hottest new creature feature, and tensions are at an all-time high. Even Goldie's mom is in on the movie act, doing what she does best: playing a mermaid. Just when Goldie thinks the movie biz couldn't get any more exciting, a diamond-encrusted swimming cap goes missing, and all fingers point to Goldie's mom as the culprit. Can Goldie uncover the true thief before it's too late?
Was this post helpful?
Let us know if you liked the post. That's the only way we can improve.