Young Llama Thoughts
Adventurous

Christian Friendly

Easy Reading

Humerous

Youth Appropriate
Overall
4.3 Llamas










Review
Ok, I actually didn't think I would like this book, but instead I LOVED IT!!!! It was hilarious, clean, teen-friendly and a great book for girls! I totally suggest this book to any teen girl!
The book is about a girl who just turned 12 and has this big list that she wants to complete. But then her plans don't really go as she planned… (Haha and they are  HILARIOUS!) And suddenly she finds out a lot more about being a teenager.
The book is super clean and very funny! There is a lot of her getting hurt, allergies, shaving her leg incidents, but it is super funny and very teen-friendly! And I honestly have only one 'con' for this book. When she is trying to shave her legs for the first time, she kind-of rips off a good chunk of skin. ("BLEH!") There is a lot of blood but that's it.
Over all, this is a great book for any girl who is becoming a teen overnight!!!!! And I TOTALLY suggest this book like now!!!! I hope you all have a nice day!!!! -The Young Llama Reader.
Pros
This is a great book fro those new teen girls!!!!
Very funny and enjoyable to read!!!!!!
Cons
There is one little part with blood in the book.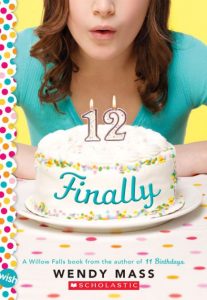 Turning 12 isn't all it's cracked up to be!
Get a cell phone. Stay home alone. Go to the mall with best friend and No Parents. Wear makeup. Get contact lenses. Attend a boy-girl party. Rory Swenson has been waiting her whole life to turn twelve. And she's got a list to prove it. Whenever Rory asks her parents for something, they always say, "When you're twelve . . ." Well, in exactly, 18 hours, 36 minutes, and 52 seconds it will finally happen. Rory's life will officially begin!
Was this post helpful?
Let us know if you liked the post. That's the only way we can improve.