Young Llama Thoughts
Adventurous

Christian Friendly

Easy Reading

Humerous

Youth Appropriate
Overall
4.1 Llamas










Review
So, I love the Enola Holmes books, and I love the new Enola Holmes movies. So I went and got book 8 and just had to read it!!!!! And I totally loved it!!!!!!!!
This book is about Enola Holmes, younger sister to the famous Sherlock Holmes, and her adventures in London as a female detective. When her friend Lady Cecily is being locked in her room thanks to her terrible father, it's up to Enola to free her. But with Sherlock tracking Cecily on his own case, Cecily disappears into the chaos of London! Now Enola has to find the left-handed independent lady before her father turns her into the right-handed submissive one forever.
Oh my goodness was this book good! I forgot how much I love this series!!!! Though the books are only 200 pages, they are sooooooooooooooooo amazing for girls 14 and up! They have action, mystery, adventure and more all wrapped up in such a thrilling read! (Thrilling as in fun not Thrilling as in scary 😉 )
Now there is some violence. London in 1889 wasn't the safest, and it had quite a few problems. There is mention of violence in this book. Some fighting and hilarious escapes. There is mention of missing bodies and where wigs and dentures come from. Which is a bit creepy but not too described.
Over all, this book was soooooo good and I totally suggest it to girls 14 and up who love a good adventure! I very much suggest this series and I can't wait to read book 9!!!!!!! May you have a fabulous book-filled day! -The Young Llama Reader.
Pros
A fantastic book filled with adventure!!!!
Mystery and action perfect for girls 14 and up!!!!
Cons
Mention of violence and missing bodies…
Mention of parts of London that are a bit sketchy…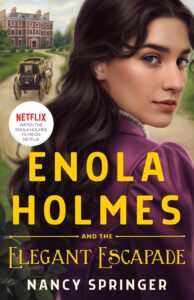 Enola Holmes, the much younger sister of Sherlock, is now living independently in London and working as a scientific perditorian (a finder of persons and things). But that is not the normal lot of young women in Victorian England. They are under the near absolute control of their nearest male relative until adulthood. Such is the case of Enola's friend, Lady Cecily Alastair. Twice before Enola has rescued Lady Cecily from unpleasant designs of her caddish father, Sir Eustace Alastair, Baronet. And when Enola is brusquely turned away at the door of the Alastair home it soon becomes apparent that Lady Cecily once again needs her help.
Affecting a bold escape, Enola takes Lady Cecily to her secret office only to be quickly found by the person hired by Lady Cecily's mother to find the missing girl – Sherlock Holmes himself. But the girl has already disappeared again, now loose on her own in the unforgiving city of London.
Even worse, Lady Cecily has a secret that few know. She has dual personalities – one, which is left-handed, is independent and competent; the other, which is right-handed, is meek and mild. Now Enola must find Lady Cecily again – before one of her personalities gets her into more trouble than she can handle and before Sherlock can find her and return her to her father. Once again, for Enola, the game is afoot.
Was this post helpful?
Let us know if you liked the post. That's the only way we can improve.