Young Llama Thoughts
Adventurous

Christian Friendly

Easy Reading

Humerous

Youth Appropriate
Overall
4.4 Llamas










Review
Ok, let me just declare that this series is soooooo amazing and I think everyone should read it now. These books would be great for boys, girls, kids, teens or adults!!!! Seriously, the Dragon Rider series are almost as good as Narnia! With different adventures, creatures and plot lines these books are truly amazing!
This book is the last adventure for Ben and his dragon. Hoping to at last find peace, neither one of them was expecting for a legend to come true and bring danger with it. As a legendary beast rises from the sea, Ben and his family must protect it at all costs, cause if she is harmed in any way, the beast will burn the oceans and take all the magical creatures with her forever…
This book was amazing!!!! I mean I just love the plot line, characters and all the adventure!!!! These books are some of my favorites and I totally suggest them to kids and teens who love a magical adventure! I mean the books are so clean, with so many types of different magical creatures from myths and legends. The magic is all clean, (think Narnia or Disney) no voo-doo or dark magic. More just interesting creatures from stories all over the world.
Now there is some violence in the book. People and creatures get hurt, killed, turned to stone or magical objects. There are bad people in the book who harm magical creatures. They kill them and use their hoofs or wings for lotions and stuff. (Weird but not creepily described) Nothing is described but there is some light mention of the violence. (Mentioned not described)
Over all, this is one of my new favorite series! I totally suggest it to kids 8 and up who love a good, clean, magical adventure! And may you all have a Blessed Day! -The Young Llama Reader.
Pros
An amazing Narnia-like book!!!
Perfect for kids 8 and up!!!
Soooo well written!
Cons
Mention of violence and fighting…
Lots of magical creatures that bring good and do harm…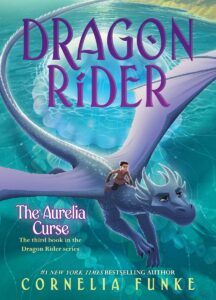 Dragons, myth, and magic unite in the third installment of Cornelia Funke's bestselling Dragon Rider series. Ben and the Greenblooms must protect a mythical new creature rising from the ocean — a creature who can bring either light or darkness to whoever it first meets.
A new peril has emerged in the world of Fabulous Creatures. One that could cause the disappearance of their kind. Luckily, all of our favorite characters are back–Ben and Firedrake, his wonderful dragon friend, plucky Guinevere and the Greenbloom family, Sorrel the irrepressible brownie, the miniature man Twigleg and a host of new Fabulous Animals and sturdy helpers. But the threat is real and qucikly encroaching. A villian from the family's past is seeking revenge.
And all the while, the mysterious Aurelia, the most fabulous and powerful creature of all, moves across oceans to its final destination, introducing a new underwater world to enjoy.
Was this post helpful?
Let us know if you liked the post. That's the only way we can improve.