Young Llama Thoughts
Adventurous

Christian Friendly

Easy Reading

Humerous

Youth Appropriate
Overall
4 Llamas










Review
I just love Baker Book House books! And the second I saw the cover on this book I was sold! (Especially since it was only $.50!) I totally suggest this book to young ladies 18 and up!
This book is about a young women born into British society! But after multiple failed attempts to win a husband, Isabella decides her life must be called elsewhere. And after meeting a mysterious young man who is a missionary to China, Isabella is convinced God must be leading her to China! But once she has stowed away on his ship headed to China, lie after lie begins to unravel Isabella's plans. With prayer, hope and perhaps a hint of love, maybe Isabella's mission may lead her to her true home after-all…
This book was not at all what I suspected it to be. I thought I was getting a romantic novel about 2 missionaries falling in love… Spoiler alert! It's not that at all! This is a book about adventure, daring sword-fights, lies, revenge and a bit of love all wrapped up in a fantastic book!!! This novel is truly a wonderful read, and one that young women 18 and up will love till the very last page!
Now, this is 1800's. There is mention of pirates doing what they will with women. Women getting money from men for "favors" and problems in China like drug addiction and binding of women's feet. Plus mention of married couples and such. Nothing is described but it is mentioned.
Over all, this is a fantastic read that I think women who love a good historical romance would enjoy! I totally suggest it and hope you all love it as much as I did! Have a Hat-tastic Day! -The Young Llama Reader.
Pros
An amazing adventure!!!
Romantic, action-filled and fun!
Christian-friendly!
Cons
Some violence and mention of blood…
Adult topics mentioned…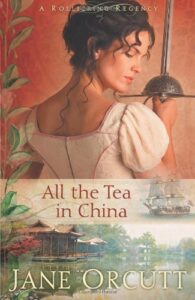 The good young Englishwoman knows that her destiny depends upon a good marriage match. But Isabella Goodrich is not your typical good young Englishwoman. After an encounter with those less fortunate than she, witty and fun-loving Isabella makes a shocking decision.
Against everyone's advice and wishes, she is going to become a missionary in the Far East. Fighting against cultural expectations, common sense, and a mentor who is not as he seems, Isabella leaves her predictable Oxford life behind and sets sail to a new world fraught with danger.
Can she trust the mysterious missionary Phineas Snowe? Or will her adventure end before it even begins? This first novel in the Rollicking Regency series will delight readers who like high adventure, twisting plots, and a fun bit of romance.
Was this post helpful?
Let us know if you liked the post. That's the only way we can improve.