Young Llama Thoughts
Adventurous

Christian Friendly

Easy Reading

Humerous

Youth Appropriate
Overall
4.2 Llamas










Review
Ok, ya'll know I love a good underwater adventure! Whether it's about Atlantis or Captain Nemo I am sooooo reading it! (As long as it's clean of course) So I got this book for my vacation and I read it sooooo fast. It was just so good!
This book is about Ana Dakkar, a young girl going to a school for the best marine scientists and underwater explorers in the world! So when the school gets mysteriously bombed, and her class are the only surviving students, it is up to them to discover the secrets behind their precious school and find out the secrets to Ana's heritage… Hopefully before it's too late.
This book was amazing! It was full of adventure, action, friendship and a whole lot of awesomeness!!!! There is lots of talk about advanced technology and such that make it feel so sci-fi, but there is also lots of talk about the story of 20,000 Leagues Under the Sea and the mysteries in the book. (Basically this is a fantastic Captain Nemo adventure that rivals the Young Captain Nemo series!)
Now there is mention of violence in the book. The school blows up with everyone in it, people get shot and stabbed with mentions of bleeding a bit. Nothing is described only mentioned, with some talk about blood or death. That's it. (It is totally clean for kids 10 and up)
Over all, I LOVE THIS BOOK!!!!!! (Which I never thought I would say about this author since he writes really weird Greek mythology books…) I totally suggest this book to kids and teens who love a good underwater adventure!!!!!!! Splash you later! -The Young Llama Reader.
Pros
A very clean book for kids!
Super interesting and very well written!
Totally suggest!!!!
Cons
Lots of mentions of people dying and some violence…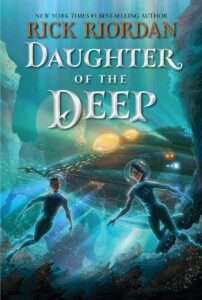 New York Times
#1 best-selling author Rick Riordan pays homage to Jules Verne in his exciting modern take on
20,000 Leagues Under the
Sea.
Ana Dakkar is a freshman at Harding-Pencroft Academy, a five-year high school that graduates the best marine scientists, naval warriors, navigators, and underwater explorers in the world. Ana's year culminates with the class's weekend trial at sea, the details of which have been kept secret. She only hopes she has what it'll take to succeed. All her worries are blown out of the water when, on the bus ride to the ship, Ana and her schoolmates witness a terrible tragedy that will change the trajectory of their lives.
The professor accompanying them informs Ana that their rival school, Land Institute, and Harding-Pencroft have been fighting a cold war for a hundred and fifty years. Now that cold war has been turned up to a full broil, and the freshman are in danger of becoming fish food. In a race against deadly enemies, Ana will make amazing friends and astounding discoveries about her heritage as she puts her leadership skills to the test for the first time.
Was this post helpful?
Let us know if you liked the post. That's the only way we can improve.