Young Llama Thoughts
Adventurous

Christian Friendly

Easy Reading

Humerous

Youth Appropriate
Overall
3.8 Llamas










Review
This book was sent to me by Baker Book House and I'm not gonna lie, when I got the email for this book I may have screamed with happiness!!! I have books 1 and 2 of this series and it is AMAZING!!!!!! These books are sooooooo good and I am completely obsessed!!!!!
This book is about the last 2 members of the SNAP Agency. Lyla has always been a run into danger headfirst kind-of girl, but when she gets some threatening letters she has to pull back and trust her team. Nicolás has always been the think it through guy in the group, but Lyla always seems to make him get into as much danger as she does, and he isn't sure his heart will make it out with him. To figure out who is threatening Lyla the crew must team up and hope they all make it out in one piece…
This book was amazing!!!!! I loved the characters, the action, mystery, romance and super cool government team ups!!!! This book has a great Christian theme throughout the story. And it is just plain awesome!!!! (I am seriously loving this authors books right now! She writes such great mysterys for girls and young women 16 and up and I totally suggest her!!!!)
Now, there is violence in the book. People get shot, beat up, kidnapped, there is mention of bombs killing people, there is mentions of bodies being found and "pieces of people"…However, nothing is grossly described and it is clean to read. (But it is still in the book, so be warned. Not a kids book!)
Over all, this series is sooooooo good and I totally suggest it!!!!!! If you love an action packed book filled with romance and mystery this is the book for you! Adios! -The Young Llama Reader.
Pros
An amazing read for girls 16 and up!!!
Adventure, mystery and romance!!!
A great end to the SNAP Agency series!
Cons
Lots of violence and action…
Some adult things mentioned…
NOT  a kids book…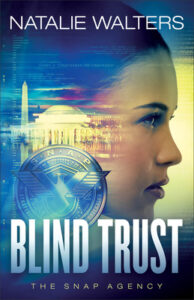 Lyla Fox knows she has a reputation at the SNAP Agency for impulsivity, but when she receives a threatening letter from a man she helped put in prison, she can't stop herself from going all in to find out why he's coming after her. Unfortunately, she's going to need the help of the one person who questions her reckless choices more than anyone else.
Explosives and weapons specialist Nicolás Garcia agrees to help Lyla in order to keep her safe, but her recklessness continues to be a major concern, especially when her investigation into a conspiracy puts a target on her back. Dealing with bombs is dangerous. Working with Lyla is proving to be just as treacherous–to both the mission and his heart.
Natalie Walters closes out her SNAP Agency series with a bang with this nail-biting story of a deadly government conspiracy, an unlikely couple, and an ending that will leave you breathless.
Was this post helpful?
Let us know if you liked the post. That's the only way we can improve.