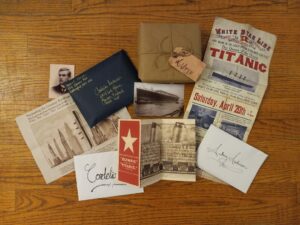 I love mail. Mail is fantastic! You can get cards from loved ones in the mail. New clothes. Fun knick-knacks and of course books!!!!!!! So it's no wonder why I am obsessed with C. D. Ross's Lost in Time Letters!!!!!!!!
This is the 5th letter in the series. And it is from Chad to Cordy. (With 2 extra letters from Chad's brother to Cordy's sister!!! Sooo cute!) And this letter came with so many goodies!!!! I got a poster for the 'Titanic', (The ship not the movie 😉 ), a brochure, a postcard, and a sheet that compares the size of the White Star Line's ships to buildings! These were all little things Chad was sending to Cordy. And along with his gifts, his brother Ethan sent along 2 letters and a box of candy called Goo Goo Clustersto Aubery! (Which were delicious by the way!)
In his letter, Chad talks about the time he and Cordy spent together is London. He goes on to say how much he enjoyed it and how he hopes to take their friendship further which is just plain romantic!!!!! Chad also talks about his ship the 'Olympic', which is the big sister to the 'Titanic'. He talks about his favorite parts of the ship and how it is the finest vessel they have ever built. (Which is kind-of sad to read about when you know the future for the ships….) But this letter is still soooooo sweet!
Over all, I loved it! And I still totally suggest you keep an eye out for the next letter subscription Ms. Ross makes! I know I will!!!! Also… I can't wait for letter 6! -The Young Llama Reader.
Was this post helpful?
Let us know if you liked the post. That's the only way we can improve.