Young Llama Thoughts
Adventurous

Christian Friendly

Easy Reading

Humerous

Youth Appropriate
Overall
4.1 Llamas










Review
Ok, before I begin I have to mention something weird… This book is about a girl going to Jewish summer camp, but there is not one mention of God or anything!?!?!? Just some special prayers and traditions. No love for God at a Jewish camp is just plain dumb to me, I literally don't understand it… Ok, now for the review.
This book is about a girl who is going to Jewish summer camp alone because her best friend ditched her to go to horse camp instead. So she has to go alone, with no friends, and no hope for a good summer. Until she meets 2 different kids, 1 from Ireland, and 1 with a strange disease that it ruining his life. With 2 new friends by her side maybe her summer won't be that bad after all! That is, until she starts getting teased, she keeps getting hives, her crush doesn't like her and she won't even try out for her favorite play "Annie" because she is too scared… Now her summer might really be ruined…
This book was a lot of fun to read. It was funny, interesting and is really good for young girls. There is some sad parts, and one sentence with the phrase "French Kissing" but that is it. However, I am still weirded out by the no God thing at a Jewish camp…. Am I the only one?!?
Over all, this is a good, clean book for girls, and one I guess I suggest. It's just strange to me that a Jew might not believe in God, but will follow all of the Commandments… So read it if you want I guess. I just can't get over that small part… -The Young Llama Reader.
Pros
A very clean book for young girls.
Interesting, funny and all about friendship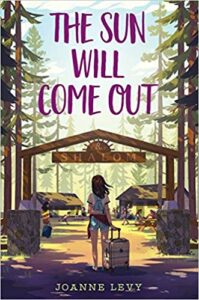 Twelve-year-old Bea Gelman and her best friend Frankie are planning the BEST SUMMER EVER at Camp Shalom―a sleep-away camp. But at the last minute, Frankie bows out, leaving painfully shy Bea on her own. Just talking to strangers causes Bea to break out into ugly, blotchy hives. As if the hives weren't bad enough, Bea gets pranked by a couple of mean girls and is betrayed by someone she thought was a new friend. Bea has had enough! She decides to spend her summer in the infirmary far away from everything that's stressing her out. No more boys (including her crush, Jeremy), no more horrible mean girls, and no more fake friends! At the infirmary, Bea meets Harry, a boy living with a disease that's way more intense than stress breakouts. Inspired by Harry's strength and positive outlook, Bea decides to face her fears―in a big way. The Sun Will Come Out is a funny and heartwarming account of a shy girl's first summer away from home, where she learns she really can do anything and that silver linings can be found just about anywhere.
Was this post helpful?
Let us know if you liked the post. That's the only way we can improve.