Young Llama Thoughts
Adventurous

Christian Friendly

Easy Reading

Humerous

Youth Appropriate
Overall
3.7 Llamas










Review
Love. That is not all I have to say about the series, however…LOVE! I have read all of the books but the 7 short stories and Russian Roulette. But the series is sooooooooo good!!!
This series is about a teenage boy who accidentally gets signed up to be a spy for the British Secret Service. Through out the series, Alex runs into problem after problem. Bad guy after bad lady. Bombs, missiles, snipers, diseases. And manages to come out unhurt every time… mostly unhurt…
I really love this series soooo much! Though it is 14 and up. It is written for boys, (but that's not stopping me from enjoying it!) so there is some talk of girls. Nothing described.
However… It is very violent…. The series is about a spy who kind-of goes everywhere and faces everything. People get shot, blow up, get eaten, get killed in horrible ways. There is mention of torture, lots of death, bullets, plane jets and people going in them, crocodiles eating people. Lots of mentions of red mist or people semi stitched back together… I have been describing it as World War 2 violence not horror movie violence. (Though I have never seen a horror movie, thank goodness, so maybe I don't really know?) So yeah, I'm having a hard time figuring out if the books are REALLY good or violent good?
Over all, I really enjoyed the series. I am pretty positive I'm gonna buy it one day. BUT. There is a lot of violence, and action and awesomeness! So you have been warned. Have an awesome day!!!!! -The Young Llama Reader.
Pros
A VERY good book for boys 14 and up!
Very clean and interesting to read!!!!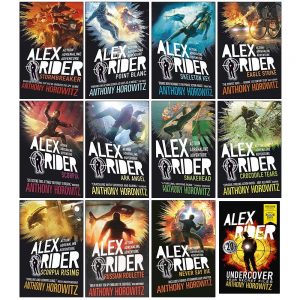 Alex Rider is a series of spy novels by British author Anthony Horowitz about a teenage spy named Alex Rider. The series is aimed primarily at teens and young adults. The series comprises thirteen novels, as well as six graphic novels, seven short stories, and a supplementary book.
Was this post helpful?
Let us know if you liked the post. That's the only way we can improve.