Young Llama Thoughts
Adventurous

Christian Friendly

Easy Reading

Humerous

Youth Appropriate
Overall
3.7 Llamas










Review
This book was surprisingly very good! At first I was pretty positive that it was gonna be a kids book, but I ended up crying my heart out while reading it!!!!!!
The book is about this girl and her dad who live in a bus. And they have been living like that for 5 years, ever since her mom and sisters died in a car crash. Until she finds out the park where her family buried a memory box is about to be destroyed. Now she has to figure out how to get back there without her dad finding out.
The book was really good!!!! But it can be REALLY SAD!!!!! (I think I cried like 4 times… It was that good!!!!!!!) And there is an LGBT character. She was kicked out of her house by her parents cause she was gay. (Which is horrible!!!!! Yes, I don't agree with LGBT nor do I support it; but you should NEVER kick someone out because you disagree with them!!!!! You should help them where you can, maybe minister a little and show them the love of God!)
Over all, this is a wonderful book! And I did really enjoy it! (Though the sad parts really made me sob!!!! It just made the book that much better!!!!!) I hope you all have a wonderful day! -The Young Llama Reader.
Pros
A pretty enjoyable book filled with fun and adventure!
Cons
LGBT character…
Some sad parts…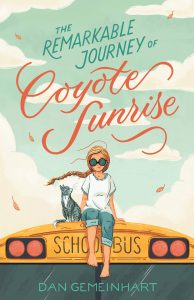 Five years.
That's how long Coyote and her dad, Rodeo, have lived on the road in an old school bus, criss-crossing the nation.
It's also how long ago Coyote lost her mom and two sisters in a car crash.
Coyote hasn't been home in all that time, but when she learns that the park in her old neighborhood is being demolished―the very same park where she, her mom, and her sisters buried a treasured memory box―she devises an elaborate plan to get her dad to drive 3,600 miles back to Washington state in four days…without him realizing it.
Along the way, they'll pick up a strange crew of misfit travelers. Lester has a lady love to meet. Salvador and his mom are looking to start over. Val needs a safe place to be herself. And then there's Gladys…
Over the course of thousands of miles, Coyote will learn that going home can sometimes be the hardest journey of all…but that with friends by her side, she just might be able to turn her "once upon a time" into a "happily ever after."
This title has common core connections.
Was this post helpful?
Let us know if you liked the post. That's the only way we can improve.