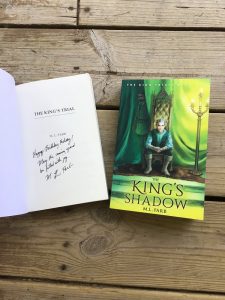 Ok, I adore these books and I got 2 SIGNED copies for my Birthday!!!!! (For the same price as a normal copy!!!! Thanks M. L. Farb!!!!!!!)
I had received both of these books as free, eBook copies before, (Thanks Ms. Farb!!!) but there is nothing like actually getting solid, real, beautiful smelling, SIGNED COPIES!!!! (I love signed copies!!!!!)
These books are soooooo good and I HIGHLY suggest them! They are about 2 different men, with 2 different lives, fighting 2 different battles for the good of 1 kingdom. And they are AMAZING!!!!
Just saying M. L. Farb is one of my new favorite authors, and I can't wait to read more of her books!!!! Have a great day everyone!!!!! -The Young Llama Reader.
Was this post helpful?
Let us know if you liked the post. That's the only way we can improve.