Young Llama Thoughts
Adventurous

Christian Friendly

Easy Reading

Humerous

Youth Appropriate
Overall
4.5 Llamas










Review
This is the 4th book in the Prince Warriors series! And it is the Last Big EPIC battle of all battles! (Yes there is fighting in the book, but it's clean kid-friendly fighting!) These books are all about the Armor of God and the kids in the book learning to use it.
This book is about after the big war, (3rd book) and the kids returning to their regular boring lives. When suddenly they are needed again for the biggest battle of their lives!
The book is very clean and action filled. There is fighting and dragons, defeating Forgers and fighting against all of the evil in their "magical" world. There is a few sad parts, but most of the book is very enjoyable to read!
Over all, this is totally a great book for any kid or teen! And I would suggest this series to anyone who loves to read about adventure, action and sword fighting!!!!! I hope you all have a great day! -The Young Llama Reader.
Pros
A GREAT book for kids and teens!!!
VERY Christian-friendly!
Cons
Some fighting and battle stuff.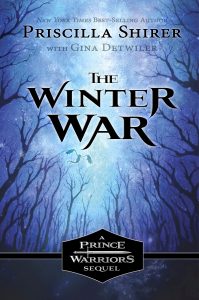 Two years ago, the Prince Warriors lost one of their own, but now they must stand firm . . . because death is coming once again. In this sequel to Priscilla Shirer's best-selling trilogy, the Prince Warriors return to Ahoratos to find it bare and dangerous. The Winter War is upon them.
Don't miss all the adventures of the Prince Warriors, perfect for all middle-grade readers! Also available: The Prince Warriors, The Prince Warriors and the Unseen Invasion, The Prince Warriors and the Swords of Rhema, and Unseen: The Prince Warriors 365 Devotional. 
Was this post helpful?
Let us know if you liked the post. That's the only way we can improve.