I recommend a favorite book every month. It might be fun or a little sad, science fiction or realistic, but it has to be pretty awesome to get picked.
And, check it out, we will have a themed llama graphic for each month. That is adorable!!! My dad is amazing at making graphics.
June's Book of the Month
From the Desk of Zoe Washington by Janae Marks
4.5 Llama's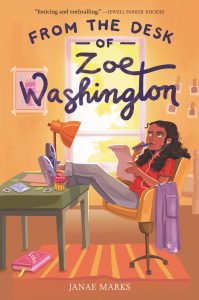 This is such an amazing book and it is perfect for any girl!!! And there is mention about #BlackLivesMatter and how people who are black do not have as much freedom as others. This book is about a girl who is trying to prove her dads innocence so he can get out of jail. And she also adores baking! (Like me!!!) I suggest this book to any kid who loves a cute story! -The Young Llama Reader.